Please encourage children to be at school by 8.45am in time to prepare for their day's work.
Hours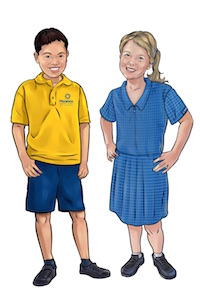 8.55am School starts
10.30 – 10.50am Morning Interval
12.30 – 1.30pm Lunch time
1.30 – 3.00pm Afternoon School
3.00pm Dismissal Bell
Please Note:
Playground supervision is commenced at 8.30am so we would appreciate your co-operation in seeing that the children arrive at school from 8.30am and before 8.50am.
The Information Centre is open for the children to use from 8.30am each morning.
The Oscar Club provides a 'Before School Care' programme from 7.00am until 8.30am each morning.
Teachers will dismiss pupils at 3.00pm and we encourage children to make their way home quickly and sensibly.  If teachers wish to retain children after school for any reason, parents will be given ample notification.
Students are expected to have left the school grounds by 3:15pm.
Children are not permitted to leave the school grounds during the school day unless collected by a parent / caregiver.  Prior notification either by a letter or phone informing of the early departure of your child is appreciated.  Interruption to school should be avoided and if at all possible appointments should be made out of school hours.
School Assembly
Every second Friday the whole school meets for class items, massed singing and presentations.  Parents are welcome to attend the assemblies.
General
Stationery
At the beginning of the year, stationery lists are distributed on the first day of school, which can be purchased from our school office.  Buying at the school means uniformity in exercise books and work materials throughout the school, as well as a small profit for the school from which all children benefit.  Click here for the Stationery Price List for 2016.
Money and Valuables at School
Parents are asked not to allow their children to come to school with money or valuables, as these things can be lost or go astray.  If  money is brought for school purposes, it must be in a named envelope and should be handed to the class teacher at the beginning of the day.